J5P II Series
Model CA4182 4x2 Tractor
FAW's second generation J5P introduces a wide range of upgrades and engineering refinements. Engines from 260 to 420 horsepower are available in 4x2, 6x2, 6x4 and 8x4 configurations. Setting the standard for ergonomics and comfort, the all-new interior features an impressive wrap-around dashboard that places all frequently used switches and controls closer to the driver. The J5P's innovative new spacious and quiet cab design reflects FAW's philosophy that the driver's working and sleeping environment has a direct relation with achieving maximum profitability and productivity. A new front suspension parabolic leaf spring design and air suspended cab mounting arrangement further minimize vibration and driver fatigue with an exceptionally smooth ride.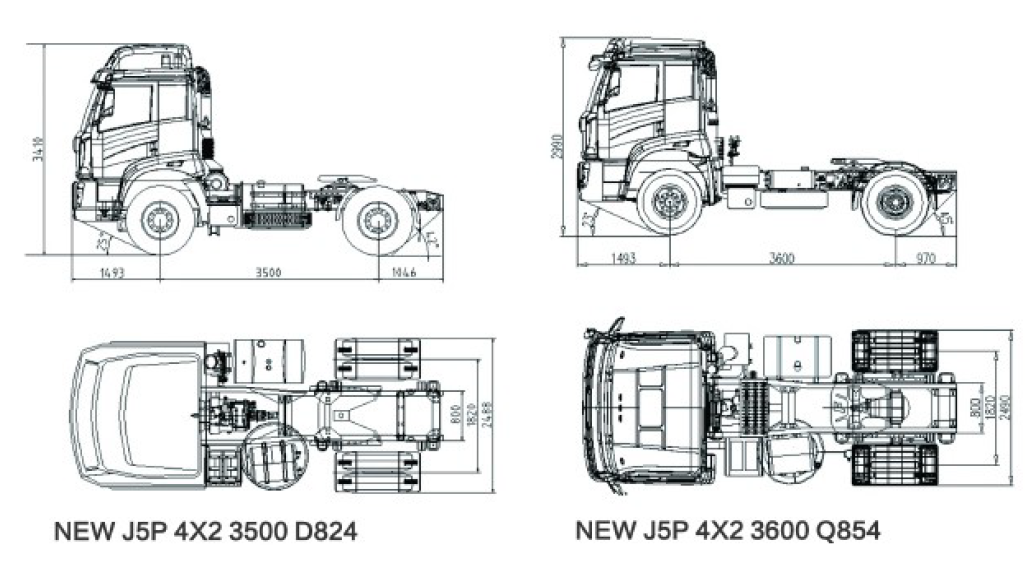 Front Axle Curb Weight (kg)

4,200

Rear Axle Curb Weight (kg)

2,660

Total Curb Weight (kg)

6,860

Front GAW (kg)

7,000

Rear GAW (gross vehicle weight) (kg)

11,500

Max. GVW (gross vehicle weight) (kg)

35,000

Overall Dimensions (mm)

Length

5,988

Width

2,490 (cab)

Height

2,890

Wheelbase (mm)

3,600

Min. Turning Diameter (m)

13.4
Note: The information in this page was accurate at the date of publication, based on the latest product information available at that time. FAW reserves the right to make changes in equipment, specifications, and design without notice at any time. Some models shown may include optional equipment. Warranty terms and services may vary in certain countries.