FAW Group Corporation (FAW) debuted its all-new 5.5-ton electric logistic truck VERTEC at the Eco Expo Asia in Hong Kong on 26 Oct.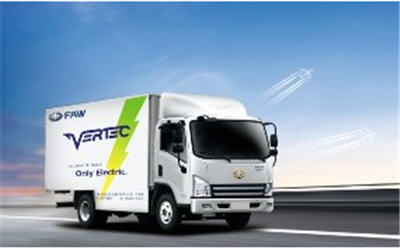 The VERTEC, developed on the platform of an existing diesel truck by FAW, is a targeted product for Hong Kong's environmental friendly requirements and traffic conditions. Equipped with advanced driving system, the electric truck can easily overcome the mountainous traffic conditions in Hong Kong. The excellent battery can provide a driving range of 200km on a single charge.
VERTEC is the first product between the cooperation of FAW and E.Tech, to meet Hong Kong market's requirements of less emission and noise pollution. The two parties said they would continue to introduce FAW's heavy-duty trucks and engineering vehicles in the future.

Eco Expo Asia is an international trading platform showcasing the latest innovations in environmental protection industries from around the world.
FAW Group is a leading global manufacturer of quality passenger cars, trucks, and buses. Established in 1953, the company is China's oldest and largest automotive group. Annual sales exceed two million units.