Xu Liuping, Chairman of FAW Group Corporation (FAW) released Innovation 2030 - FAW Hongqi R.Flag Technological Development Strategy at the fourth Science and Technology Conference of FAW in Changchun on Oct 30. Xu Liuping, also Secretary of the CPC FAW Group Committee, elaborated FAW's specific objectivities and implementation path in core and key technologies research and development.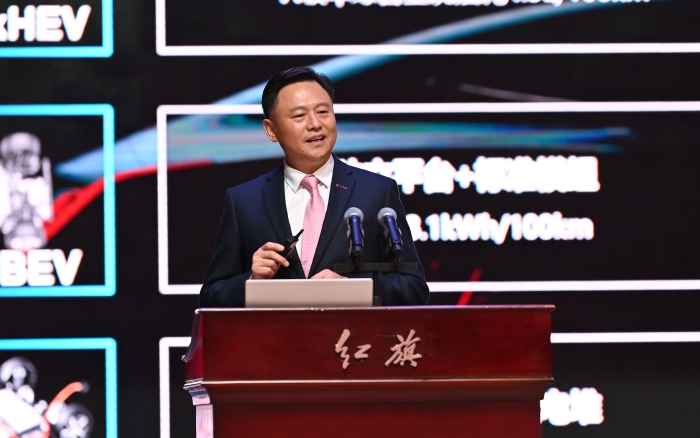 Based on FAW's New Energy Vehicles (NEVs) & Intelligent Connected Vehicles (ICVs) Technological Development Strategy, which was released in 2019, FAW adhered to the innovation-driven sustainable development and developed the former strategy into the complete Innovation 2030 Technological Development Strategy, to match with the trend of auto electrification, intelligent, sharing and connectivity, as well as intensifying market competition.
Taking into consideration of new industrial policies, cutting-edge technologies, new customers and new demands, Xu Liuping puts forward that the new era has raised new requirements for auto products, "auto electrification, intelligent connectivity, immersive experience, safety and healthy, sharing and digitalization should be the development trends of automotive industry in the future," said Xu, adding that "the releasing of the Hongqi R.Flag Technological Development Strategy is FAW's response to the new requirements, and will serve as FAW's strategic framework in technological development."
FAW has clarified its technological growth direction and deployed seven sub-brands in technological development, with an aim to providing an overall guidance for FAW's scientific and technological innovation, and accelerating enterprise transformation and upgrading and high-quality development by leaps and bounds.
FAW is a leading global manufacturer of quality passenger cars, trucks, and buses. Established in 1953, the company is China's oldest and largest automotive group. Annual sales exceed three million units.