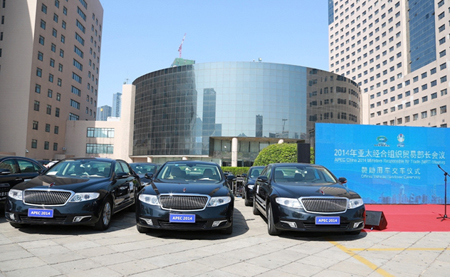 FAW Group's H7 limousines were designated as official cars to serve government officials and business leaders and trade ministers in 2014 Asia-Pacific Economic Cooperation (APEC), which was held from May 17-18 in Qingdao, Shandong province.
FAW delivered a total of 28 Hongqi H7 Limousines at handover ceremony in Qingdao on May 13. Hongqi H7 is one of the representatives of China's own brand products, which will provide high quality service for APEC guests.

FAW Group is a leading global manufacturer of quality passenger cars, trucks, and buses. Established in 1953, the company is China's oldest and largest automotive group. Annual sales exceed two million units.