A donation ceremony jointly sponsored by China FAW Group and China Foundation for Disabled Persons was held in Sichuan Province on Apr 25. FAW announced the donation of 4 million yuan to Lushan earthquake area at the ceremony. 3 million yuan of the donation would be used for the procurement of 51 vehicles for the disabled and public security departments of the earthquake disaster (Tibetan) area, and 1 million yuan for providing rehabilitation assistance to the persons who become disabled in the earthquake.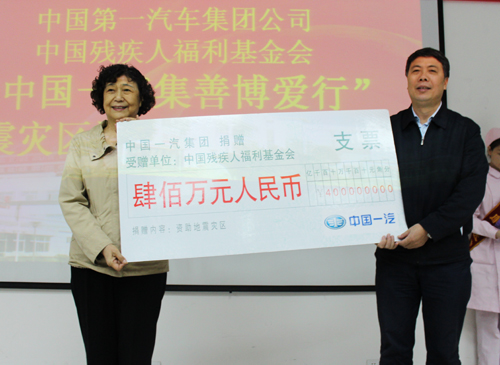 A 7.0-magnitude quake struck Lushan County, Sichuan Province on Apr 20, 2013, an event caused great loss to Sichuan and Gansu Provinces. To help disaster relief and post-quake reconstruction, China FAW Group, jointed together with its subordinate units, included FAW-Volkswagen, FAW Toyota, FAW-GM, FAW Jiefang, FAW Bus and Coach, FAW Jilin Automotive, donated funds and goods amounted to 20 million yuan. The 4 million yuan donation this time would provide goods and psychological comfort for the people living there. It was also the benevolence and responsibility of FAW's 130,000 employees.
FAW Group is a leading global manufacturer of quality passenger cars, trucks, and buses. Established in 1953, the company is China's oldest and largest automotive group. Annual sales exceed two million units.