FAW-VW has already produced 10 million cars in China to the beginning of this Dec. The ceremony of the celebration of the 10 millionth car down-line was held at FAW-VW's auto plants in Changchun, Chengdu and Foshan simultaneously on Dec 2.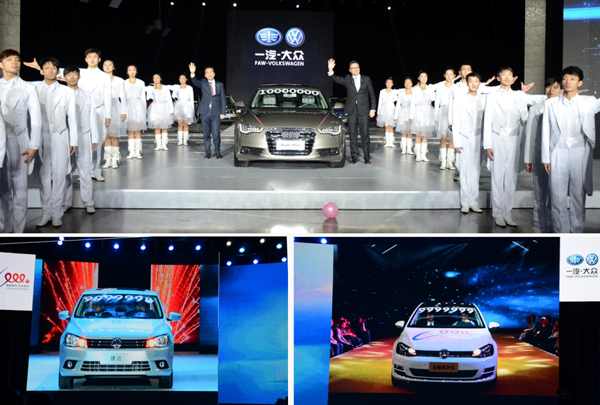 At that night, as the 9,999,998th car produced by FAW-VW, a Jetta car rolled off assembling line at FAW-VW Chengdu Car Plant III; another Golf car, marked with number of 9,999,999 on its body, rolled off line at FAW-VW Foshan Car Plant IV; and an Audi A6L, the 10 millionth car, rolled off line at FAW-VW Changchun Car Plant I. Through the network, attendees to the celebration in Chengdu, Foshan and Changchun, were cheerful together for the great achievement of FAW-VW at the same time.
It was Dec 5, 1991 that FAW-VW's first Jetta rolled off assembling line. The 1,000,000th car was down-line in Jan 2004. It took 13 years for FAW-VW to produce cars from the first one to the 1,000,000th car, and only 7 months from the 9 millionth to the 10 millionth.
Since the founding of the company in 1991, FAW-VW has never forgotten its commitments to consumers, shareholders, employees, and business partners during the business operations. FAW-VW will continuously attach great importance to its own development, and make great contribution to the society.
FAW Group is a leading global manufacturer of quality passenger cars, trucks, and buses. Established in 1953, the company is China's oldest and largest automotive group. Annual sales exceed two million units.