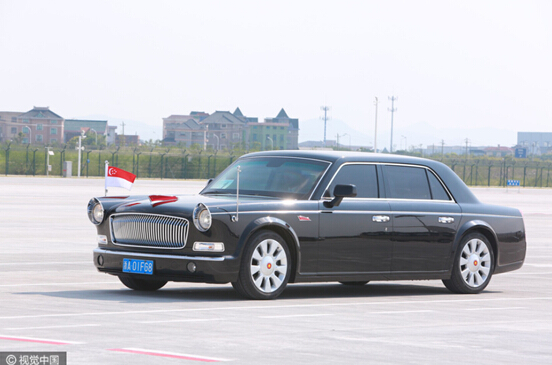 As the most important forum for global economic cooperation, the Group of 20 Summit opened on Sunday in China's eastern city of Hangzhou with the theme of "Toward an Innovative, Invigorated, Interconnected and Inclusive World Economy". This is the first time that the world's second largest economy took the presidency of the prime platform of global economic governance.
FAW's self-developed Hongqi L5, the top grade limousine in China, designated to serve the leaders of the Group of 20 (G20) members. As China's official car, Hongqi L5 limousine showed China's manufacturing capability to the world again.
Hongqi L5 had served as the official car for many high-profile events since 2013, including French President Francois Hollande, and ROK President Park Geun-hye visiting China respectively; 2014 APEC Economic Leaders' Meeting; Commemoration of 70th Anniversary of Victory of Chinese People's Resistance against Japanese Aggression and World Anti-Fascist War in 2015.
FAW Car is a wholly owned subsidiary of FAW Group. The company is a premier manufacturer of world class performance and luxury performance sedans. FAW Car also cooperates with Mazda Motor Corp. in sales and production in the China domestic market.
FAW Group is a leading global manufacturer of quality passenger cars, trucks, and buses. Established in 1953, the company is China's oldest and largest automotive group. Annual sales exceed two million units.