A high-level delegation of Dongfeng Motor (DFM), led by Zhu Yanfeng, Chairman and Secretary of the CPC DFM Committee, visited FAW on Feb. 17. At headquarters of FAW Group (FAW), top leaders from FAW and DFM introduced current corporate operational situations and development strategies during the 13th Five-Year Plan period respectively, and signed a strategic cooperation agreement on the joint establishment of an innovation center for forward-looking and generic technologies research and development.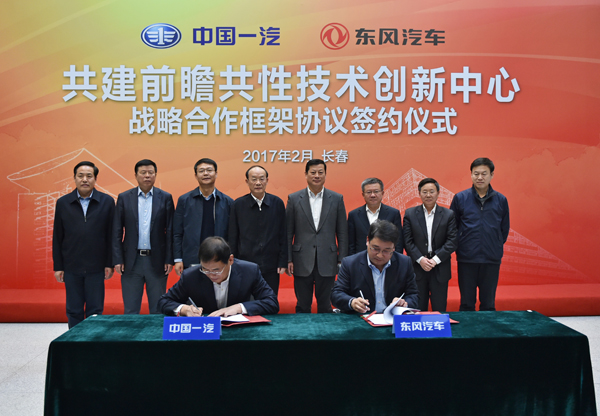 According to the agreement, FAW and DFM will jointly explore ways to set up new scientific and innovative system and mechanism, share risks in technological upgrading investment, reduce R&D costs, so as to rapidly promote the R&D capabilities in forward-looking and generic technologies.
Based on the development requirements of the two parties, the innovation center will focus on five fields in the future, namely establishing a platform for forward-looking and generic technologies, sharing R&D achievements in introductory and advanced technologies; developing intelligent connective technologies, and technologies in fuel cell engine and in lightweight; cultivating talents, advancing technological innovation in auto industry and promoting the conversion of advances in science and technology into actual productive forces; raising funds for high-investment testing and confirming facilities and equipment; and fostering shared strategic suppliers.
"Apart from the jointly establishment of the innovation center, FAW and DFM will also explore ways in research and development of new energy vehicles and other fields in the future," said Xu Ping, FAW Group Chairman and Secretary of the CPC FAW Committee, "it is a visit that open up further cooperation in the future, and will surely be cherished by both sides."
"DFM and FAW have been seeking more in-depth and wider cooperation projects. In the future, our two parties will set up a mutual visit mechanism, and constantly promote our cooperation and make more achievements", said Zhu Yanfeng, Chairman and Party Secretary of DFM.
During the visit, two parties also exchanged views and experiences on Party construction, discipline inspection, commercial vehicle development and joint venture development.