FAW Jiefang Truck Co. Ltd., a division of FAW Group and the largest maker of heavy-duty trucks in China, launched its new Jiefang J6 heavy-duty truck in Shenzhen on Jun 9.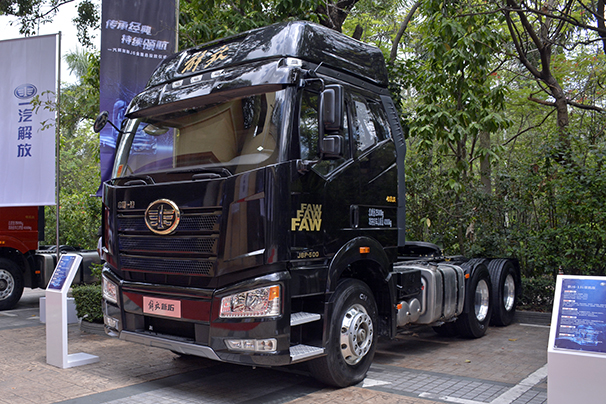 Compared with its previous model, the new model has carried out 6 major innovations in appearance, intelligence, power, energy saving, reliability and comfort, and 75 technical upgrades.
Since its first model launched in 2007, the sales of Jiefang J6 has reached nearly 700,000 units.
On Oct 20, 2009, a new model of Jiefang J6 rolled off the assembly line at FAW Group, marked the 10,000,000th produced vehicle of China, which means China has become the third country in the world to surpass the auto annual output of ten million units following the United States and Japan.
On Jan 14, 2011, the R&D of Jiefang J6 heavy-duty truck and heavy duty diesel engine was awarded the first prize of the national scientific and technological progress at the Great Hall of the People in Beijing.
During the 10 years of development, Jiefang J6 has been highly recognized by the consumers and established a reputation of fuel-efficiency, safety, reliability and comfort.
The new Jiefang J6 has inherited fine traditions of former generations. During the three-year process of R&D, FAW Jiefang established a R&D group of 150 engineers and introduced new technologies, new production processes, and new equipment for the new model, and carried out one million road test as well as extreme environment tests in altitude, alpine cold and hot environments for the new model, with a view to developing a high-end heavy duty truck which can meets diversified market demands.
Equipped with CA6DM3 500hp engine, the new J6 has set a new benchmark for the industry of 1.5 million kilometers life span and the oil change cycle of 100,000 kilometers. The CA6DM3 engine, applied with 8 core techniques including high-efficient combustion control and low friction, has become one of the most advanced, the most reliable, the lightest, and the most fuel-saving engine in China's heavy-duty truck industry.
The New J6 adopted a 12-gear, 2300N•m aluminum transmission, realized the goal of much lighter and better performance by introducing 5 core technologies including light-weighted design and forced lubrication. The application of upgraded 457 axles, balanced suspension, hollow anti-roll stabilizer, and other 15 lightening technologies reduced the curb weight by over 300 kilos, and further promoted fuel-saving performance.
FAW Group is a leading global manufacturer of quality passenger cars, trucks, and buses. Established in 1953, the company is China's oldest and largest automotive group. Annual sales exceed three million units.