China FAW Group Corporation (FAW), Dongfeng Motor Corporation (DFM) and Changan Automobile (Changan), China's three largest state-owned automotive manufacturers, signed a Strategic Cooperation Framework Agreement on Dec. 1, in Wuhan City, Hubei Province.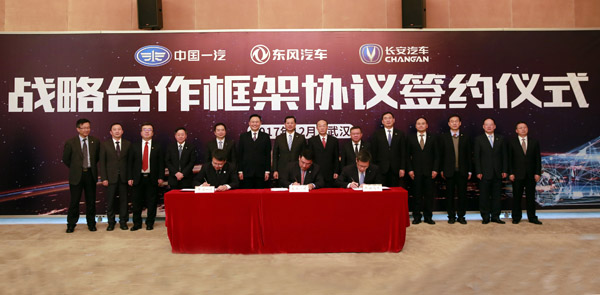 According to the agreement, the three sides will carry out an all-round cooperation in the following four areas of pioneering and key generic technological innovation; automotive whole value chain operation; support each other in expanding overseas market; and creating new business models, which shows that China's major state-owned automotive manufacturers work together to promote the development of China's automotive industry and enhance the overall strength of China's own automotive brands.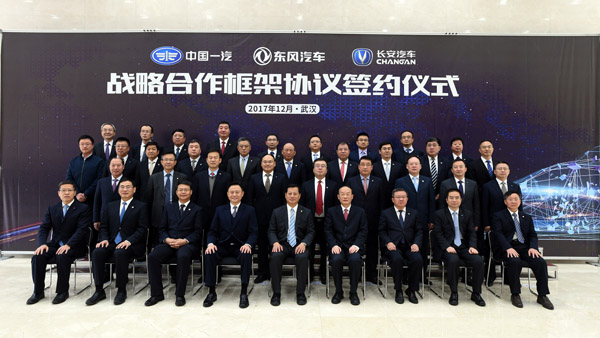 In terms of pioneering and key generic technological innovation, the three sides will actively participate in the establishment of the National Innovation Center for Intelligent Connected Vehicle, and conduct joint investment and development in strategic key technologies and platforms, such as new energy, intellectualization, internet of vehicles, and vehicle lightweight, and share technological achievements.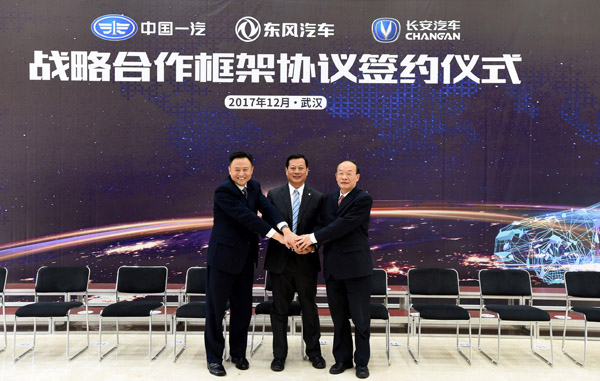 In terms of automotive whole value chain operation, the three sides will give high priority to strengthen coordination in traditional vehicle manufacturing platforms and power assembly, while enhance cooperation in production, procurement, and logistics.
In terms of expanding overseas market, the three sides will actively practice the Belt and Road Initiative, and explore ways to deepen cooperation in product export, overseas terminal sales network, overseas partners, overseas manufacturing resources, and international logistics.
The three sides will also strengthen cooperation in vehicle sharing, on-the-road services, and new types of business in automotive industry, and jointly discuss the coordination in financial sectors, and the participation in the building of intelligent city and intelligent transportation.
FAW is a leading global manufacturer of quality passenger cars, trucks, and buses. Established in 1953, the company is China's oldest and largest automotive group. Annual sales exceed three million units.