China FAW Group Corporation (FAW), a major state-owned automaker, released a new development strategy for its Hongqi brand at the Great Hall of the People in Beijing on Jan. 8. FAW plans to shape the luxury marque, which was created in 1958, as top luxury brand in China and renowned brand in the world.
"FAW seeks to boost Hongqi's annual sales to 100,000 vehicles by 2020 and 300,000 and 50,000 vehicles by 2025 and 2035", said Xu Liuping, Chairman of FAW Group at the ceremony.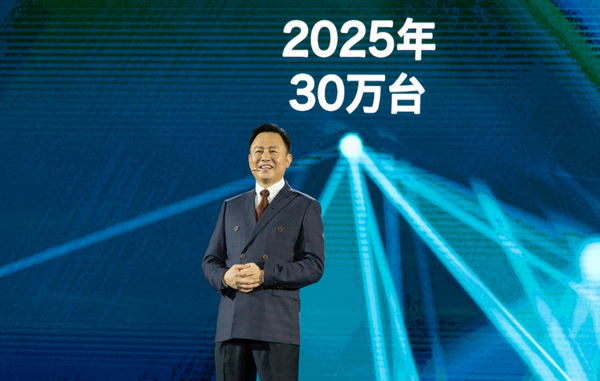 Xu Liuping, Chairman of FAW Group, released new Hongqi brand strategy
According to the new strategy, Hongqi plans to roll out 15 battery electric vehicles and two gasoline models by 2025 under L (Hongqi Limousines), S (Hongqi Sports Cars), H (Hongqi Full-size Sedans) and Q (Hongqi Recreation Vehicles) product series.
Hongqi will launch its first battery EV this year. In 2020, Hongqi will launch sales of battery EVs developed on FME platform that will have a range of 600 kilometers. By 2025, Hongqi will introduce a total of 15 electric models.
In terms of intelligent and autonomous vehicle devleopment, FAW will mass product Hongqi vehicles with L3 self-driving features in 2019, and mass produce vehicles with L4 self-driving features in 2020. By 2025, FAW will introduce vehicles with L5 self-driving function.
In the field of R&D, FAW has established a full-fledged R&D system to support the developmet of Hongqi. According to the strategy, Hongqi's R&D center is headquartered in Changchun, which is also the headquarters of FAW Group, including styling design, new energy vehicle and intelligent network R&D institutes. FAW has also established four branches for these institutes – Sub-Institute of Experiential Sensing Measurement and Pioneering Technological Innovation Branch in Beijing; Sub-Institute of New Energy Vehicle Development in Shanghai; Sub-Institute of Pioneering Technological Innovation in Munich, Germany; and Sub-Institute of Artificial Intelligence Development in Silicon Valley, USA.
At the ceremony, FAW also unveiled a new and unified design language for Hongqi brand, and released Hongqi's new brand logo, which will be used in the steering wheel and wheel hub.
FAW is a leading global manufacturer of quality passenger cars, trucks, and buses. Established in 1953, the company is China's oldest and largest automotive group. Annual sales exceed three million units.