On September 13, FAW Group and Mobileye held a memorandum of understanding (MOU) signing ceremony in Changchun, Jilin province. Qiu Xiandong, chairman of BOD and secretary of the CPC FAW Group Committee, Lei Ping, member of the CPC FAW Group Standing Committee and vice president, Liang Guiyou, member of the CPC FAW Group Standing Committee and vice president, and Amnon Shashua, president and CEO of Mobileye, Nimrod Nehushtan, executive vice president of Mobileye, and Elie Luskin, vice president of Mobileye China attended the ceremony together.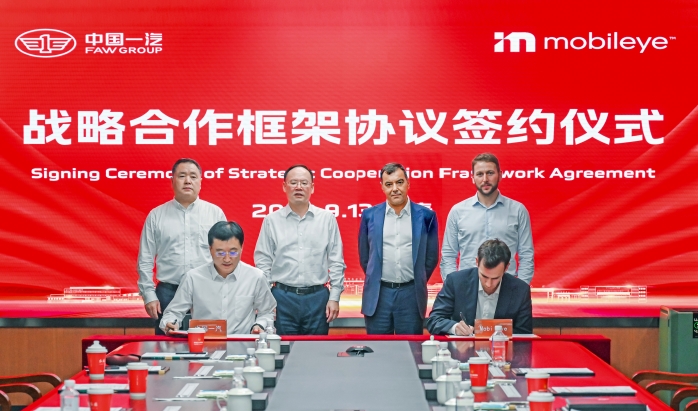 During the ceremony, Liang Guiyou and Nimrod Nehushtan, as representatives of both parties, completed the signing of this agreement. As a result, the two parties will establish a brand new partnership and continue to utilize their respective industry advantages in software, hardware, technology and products, combining technology and product to empower users with efficient and beautiful travel experiences.
As a pioneer of China's automotive industry, FAW Group has always been committed to creating a wonderful trip and a better life for its customers, and to building a world-class, green and intelligent mobility service company that consumers love. Throughout its 70 years of development, FAW Group has been constantly refreshing the user experience through technological innovation and service upgrades. While Mobileye has been leading the mobility revolution with its autonomous driving and driver assistance technologies using its world-renowned expertise in computer vision, artificial intelligence, mapping, and data analytics, and is a global pioneer in the provision of advanced driver assistance systems and automated driving solutions based on vision system analysis and data processing. This cooperation will go beyond the boundaries of traditional partnership and work together in depth to explore more intelligent transportation and intelligent driving solutions. It is foreseeable that stronger cutting-edge innovation capabilities will also help FAW Group set new industry benchmarks.
At present, FAW Group is accelerating its intelligentization strategy. Based on the signing of this MOU, FAW Group will fully integrate the software and algorithm advantages of its partners on the basis of its own excellent innovation ability, and strive to bring more breakthrough experiences to users, and build a more advanced and convenient intelligent travel experience in the new era.
FAW is a leading global manufacturer of quality passenger cars, trucks, and buses. Established in 1953, the company is China's oldest and largest automotive group. Annual sales exceed three million units.