FAW Jiefang Group Co., Ltd. (FAW Jiefang) released its 2021 annual performance report on March 30th, with positive growth in annual revenue and net profit.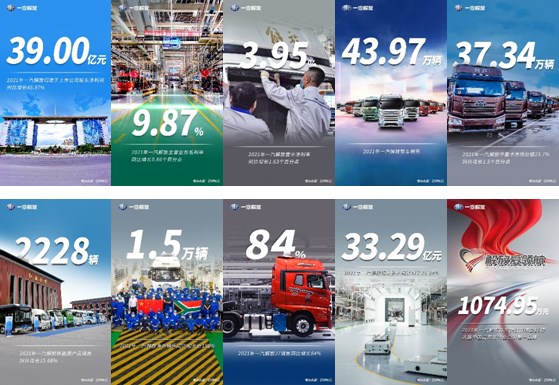 In 2021, FAW Jiefang's revenue amounted to RMB 98.751 billion. The company's profit jumped 17.8% year on year to RMB 4.109 billion, while net profit attributable to parent company summed up to RMB 3.9 billion, surging 45.97% from a year ago.
According to the report, FAW Jiefang saw its annual sales amounted to 439,700 vehicles last year. Notably, the sales volume of medium- and heavy-duty trucks reached 373,400 units, edging up 1.5% year on year and amounting to 23.7% China's market share. As the core business of FAW Jiefang, the sales of medium- and heavy-duty trucks ranked first globally for five consecutive years, while the sales of heavy-duty trucks ranked first globally for six consecutive years.
Guided by the principles of "leading technologies, original experience, integrated innovation, intensified application, coordination and efficiency", FAW Jiefang has established a complete independent R&D system, and created five technological platforms feature low-carbon, electrification, intelligence, connectivity and high-quality. FAW Jiefang has became one of the commercial vehicle producers mastering core technologies of world-class complete vehicle and three major powertrains. According to the report, FAW Jiefang poured a total of 3.329 billion yuan into R&D-related businesses, a 16.24% growth year-over-year.
Thanks to continuous improvement in R&D and marketing innovation capabilities, FAW Jiefang has gained an outstanding performance in high-end heavy-duty truck market, overseas market and NEV market. Last year, FAW Jiefang's J7 high-end heavy-duty truck sales leapt 84% over a year earlier. Overseas sales hit a record high with volume skyrocketing 150% to 150,000 vehicles. Meanwhile, its NEV sales reached 2,228 units in 2021, up by 15.68% from a year earlier.
FAW is a leading global manufacturer of quality passenger cars, trucks, and buses. Established in 1953, the company is China's oldest and largest automotive group. Annual sales exceed three million units.