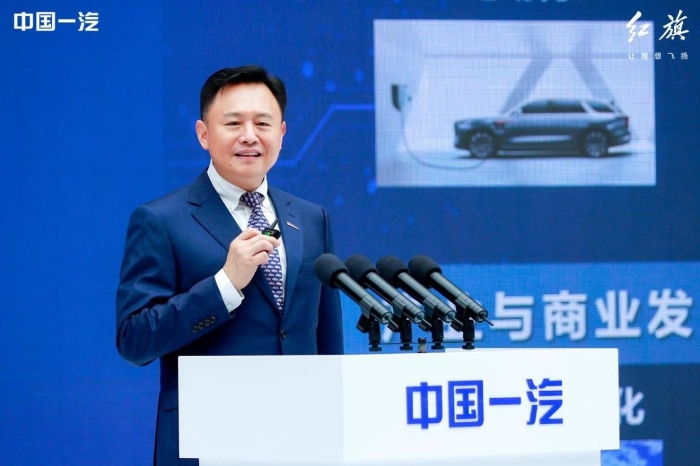 FAW expects the annual sales to reach 6.5 million units, sales revenue exceeds 1 trillion yuan and profits surpasses 68 billion yuan by 2025, according to the Outline of the Developmennt Plan (2021-2025) and Technological Innovation Strategy. The plan was issued by Xu Liuping, chairman of BOD, and secretary of the CPC FAW Group Committee in Changchun on July 15.
According to the plan, FAW will develop itself into a world-class and environment-friendly mobility service provider by 2025. "It is our mission to create a well-known national automobile brand, build a strong automobile industry, provide customers with pleasant experience, and open a new path for the transformation and upgrading of Chinese automobile industry in the new era", said the plan.
FAW also released specific goals during the 14th Five-Year Plan period. These goals including: 1) FAW will break a new ground in transformation and development of Chinese automobile industry, blaze a new path of green and low-carbon (or zero emission) growth, and expect its annual sales up to 6.5 million units, with annual sales revenue up to 1 trillion yuan and profits over 68 billion yuan; 2) annual sales of Hongqi brand will exceed 1 million units; 3) annual sales of FAW's self-owned brands will surpass 2 million units; 4) Hongqi NEVs account for more than 40 percent; 5) most passenger models under self-owned brands will be electrified by 2030; 6) keep the leading positions in innovation, employee development, Party building, social responsibility, and customer satisfaction.
"After five to ten years of hard work, we will achieve the goal of building FAW into a world-class enterprise," said Xu Liuping.
FAW is a leading global manufacturer of quality passenger cars, trucks, and buses. Established in 1953, the company is China's oldest and largest automotive group. Annual sales exceed three million units.